Why is this important?
Working horses are employed in many holiday destinations around the world to make life easier and more exciting for the tourists who have visited; for some the fact that the horses are there is a factor in choosing to visit. However, in too many cases these horses are overworked or are the victims of forms of bad practice that can lead to unacceptable suffering.
Under-sized donkeys carrying heavy people or loads being beaten to make them travel over treacherous terrain, or under-fed horses in ill-fitting tack pulling heavy carts full of tourists are sights we may all have witnessed and passed off as, "just one of those things – nothing we can do about it".
You can do something about it…
Perhaps the first things that you can do about it are to look out for it, try and understand it and learn about why it is happening. Don't assume that the owners don't care about animals or are just cruel, as this is not always the case. If possible, ask the owner about the animal or ask them why they are behaving in a certain way – you may need to use your tour rep to translate here. Make the decision not to be involved in unacceptable practice and let your fellow tourists, your rep and the owner know why.
Tourism is a major source of foreign exchange for many countries: the Pounds, Euros, Yuan and Dollars that you spend are an important part of their economy. The authorities in these countries will do what is necessary to protect that income and encourage more. This provides us all with the opportunity to move animal welfare further up the priority list of changes that need to be made. If we make it clear that we will not come to holiday locations where the authorities do not support improved equine welfare, then tourist boards and tour operators will apply pressure to ensure changes are made.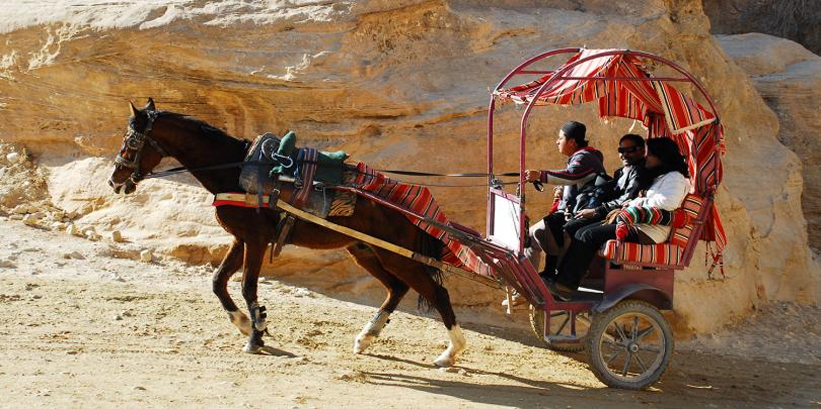 Don't become the cause of the problem…
The horses and donkeys that you will encounter at holiday destinations are usually the only source of income for their owners, which is generally not a very lucrative one. The money that they get from you will have to keep them, their family and their animals. They will be desperate to get as much as they can and will therefore agree to things that are not best practice for the animal or themselves.
Try not to take advantage of this situation. Do not use a horse or donkey that is obviously not up to the job. Don't do deals to get an animal to carry two people and don't barter down the price too much – the chances are that your saving will come out of the food and care allowance for the animal.
There are codes and guidelines aimed at tourists that have been produced by animal welfare organisations and tourist boards such as the Association of British Travel Agents. Check with your tour operator and ask them if they are doing anything to affect welfare issues in the locations they are using. However, most importantly we would urge you to use your own judgment, common sense and compassion when confronted with animals while you are on holiday and then act accordingly.
Unfortunately, we do not have staff on the ground in many countries where you might encounter poor welfare. If you are concerned about a horse overseas you may like to get in touch with World Animal Protection who have a list of approved welfare organisations in countries worldwide. You can find a list of their regional offices here.