Responsible horse ownership
Encouraging and supporting responsible ownership is the cornerstone of horse welfare.
Encouraging and supporting responsible ownership is the cornerstone of horse welfare.
We work with horse owners and carers from around the world to promote and support good husbandry and care of all horses.
Responsible breeding
Horses are wonderful animals and they bring such joy that it can be tempting to want the experience of breeding your own foal. Breeding can be hugely rewarding and bring great success, but a number of problems arise when lots of people all decide to breed a foal.
What is the problem?
Sadly, in the UK there are now thousands more horses than there are good homes. Prices have dropped to desperately low levels, and many horses are being abandoned or neglected.
Every day we are asked to take in horses that owners are unable to keep, or which did not turn out the way their breeder expected. With so many neglected horses in urgent need of our help, we are rarely able to offer private owners anything more than advice. It simply isn't possible for us to take in all of these horses. Because of this we are asking owners to consider if they really need to breed.
Read more on our Do you need to breed? Advice page
Tethering
Although never ideal, if tethering is done in accordance with the Code of Practice on Keeping Horses, Ponies, Donkeys and their Hybrids, it can be a way of keeping horses on a temporary basis. Wherever possible, we will work with owners to improve their tethering practices.
This is preferable to imposing a ban on tethering which may not be enforceable and may drive owners to keep their horses in shut-away locations, away from public view and therefore help with their welfare.
Buying, selling and rehoming
If you are thinking about buying, selling or rehoming a horse, World Horse Welfare has produced some tips to help make sure everything goes well.
Read more:
End of life
The ultimate act of responsible ownership is to provide your horse with a 'good death'.
Read more on our End of life Advice page
Removing the blinkers
How many horses, ponies, donkeys and mules are there in the EU?
Where are they?
What are they used for, and how are they kept?
These questions may sound simple – but until recently, they remained unanswered. Many European equines and large parts of the EU's equine sector were simply invisible to Europe's policy-makers – meaning that animal welfare and health policy and legislation could not take account of these animals' needs.
World Horse Welfare and Eurogroup for Animals, at the request of the European Commission, have now released a new report which is the first step towards filling this information gap. Our research has revealed that equines in the EU are hugely versatile, fulfilling many roles – from a wild animal to a working horse; a pet, to an elite athlete; and even a source of food. Many parts of the sector are unknown quantities – such as donkey milk farms – and many equines still suffer welfare problems.
Worryingly, there is a serious lack of information about many aspects of the sector. Even simple information such as the equine population of each Member State has been difficult to find, with many countries not able to supply one reliable figure. Despite the EU having had equine identification legislation in force for over a decade, it is clear that the system is still not functioning as well as it could.
Our report provides a five-year roadmap to better equine welfare in the European Union, making recommendations for the European Commission, Member State governments and the equine industry.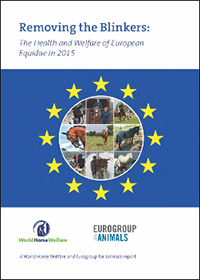 Removing the Blinkers
Download the Health and Welfare of European Equidae in 2015 report