There are lots of factors to consider when both buying a new horse or selling your horse.
When buying a new horse it is important that you do your due diligence on the seller including researching them (you can use social media and search engines) and identifying any red flags. Obtain as full a history of the horse as possible, including why the horse is being sold, their medical history, details of any previous homes and what they did in their previous home(s) e.g. they were a low level hack or competed to a high level in a particular discipline and their competition history. We always advise that you don't buy horses unseen.
When selling, it is important that you do your due diligence on the buyer; can they provide suitable references that are happy to talk to you e.g., a yard manager or coach? Can they send you pictures or videos of them riding other horses so you can check that they are at an appropriate skill level to meet the needs of the horse you are selling?
World Horse Welfare is a member of the Pet Advertising Advisory Group who can provide additional support regarding what to do when buying or selling a horse. It is important to note the buying and selling of horses is not regulated, with commercial or private sellers not requiring licenses to sell horses.
For more guidance on both buying and selling, take a look at our downloadable guides.
Buying a horse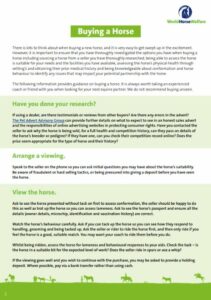 Our guide covers:
Satisfying yourself they are a reputable seller
What to do when you view a horse
Your legal rights as a consumer buying a horse
Selling a horse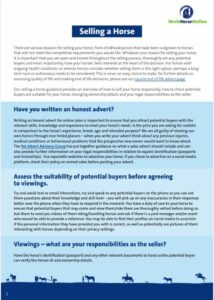 Our guide covers:
Writing an honest advert for your horse
How to vet potential buyers
Your legal responsibilities as the seller of a horse
Our Welfare Wednesday Webinar on buying horses can provide further information on:
Making sure that the horse you buy is suitable for you and your facilities
Things to check before making a decision or engaging a vet to do a pre-purchase examination
Whether a pre-purchase examination is advisable or not
Welfare considerations and obligations of horse ownership
The most common traps that unwary buyers can fall into
If you are in the UK and think that you have been mis-sold a horse that is not suitable for your needs, not as the seller described or has health issues that were not declared by the seller then you can consult a representative from the Citizens Advice Bureau. The Consumer Right Act (2015) outlines your rights as a consumer if you purchase a horse from a trader and are mis-sold or wish to return the horse. Please note, that you would likely need to return the horse to the trader/dealer under the conditions of the Consumer Rights Act, therefore it is imperative to undertake thorough checks prior to purchasing a horse. It can be more complicated if you purchase a horse from a private seller as your rights are not protected should something go wrong.
Why buy when you can rehome?
We hope you will consider rehoming over buying and give a horse in need a second chance in life. All our horses are comprehensively checked by the vet and farrier, come with identification including their passport and a microchip and we give you the honest facts about their temperament and abilities. Each horse comes with a rehoming pack with all the essentials you need plus further advice and guidance that may be relevant to your rehomed horse.
Visit the rehoming pages of our website to see the wide variety of horses and ponies looking for new homes.