Selection and safety of the vehicle
Whether using your own transport, hiring a horsebox or trailer to drive yourself or using a transporter, you should check that the vehicle is safe to be on the road as well as for your horse to travel in. For more information on operator and vehicle requirements in the UK click here.
Travelling Safely Checklist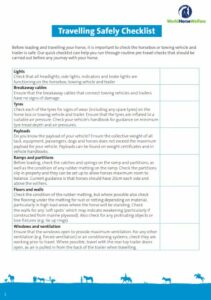 Our checklist runs through the basic checks you should make before a journey including:
Vehicles should be routinely serviced and MOT'd as appropriate for their weight category. It is your responsibility as the owner of the vehicle to ensure that it is well maintained. If you are hiring a box or using a transporter, they are responsible for the maintenance of their vehicle, however you should inspect the horsebox or trailer thoroughly before use or loading your horse.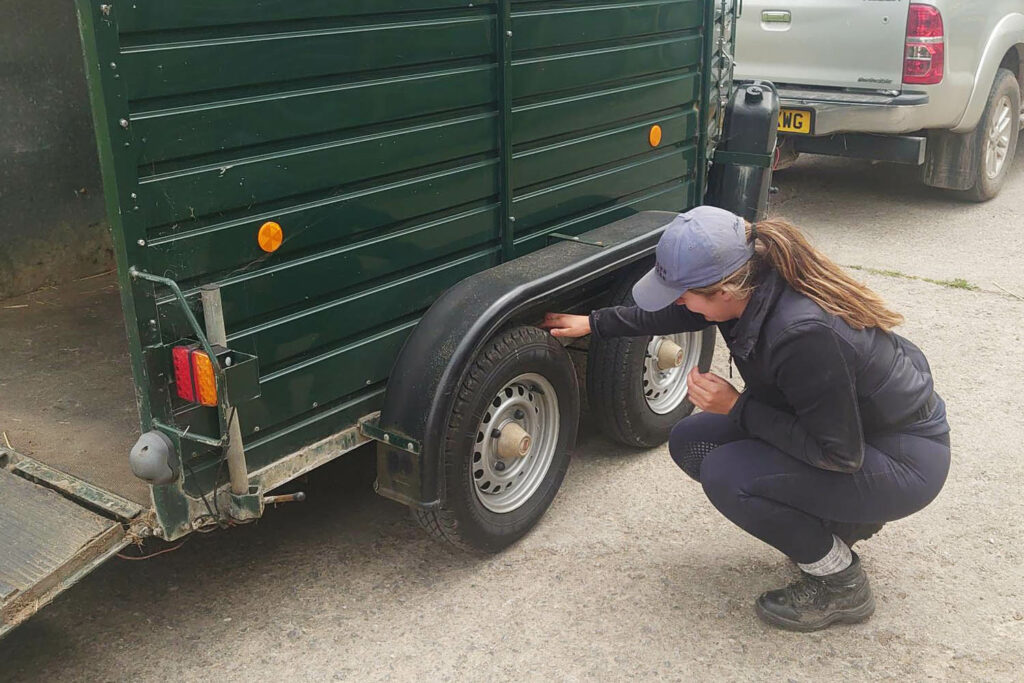 Vehicle weight limits and space allowance
An important factor to take into consideration is the weight of the vehicle and how much weight the vehicle can carry. You can visit a local weighbridge who will be able to provide you with a payload weight certificate. It is important to know the payload of your vehicle so that you can plan what you need to take on your journey and ensure that you will not be over the specified weight. The combined weight of you, your horse, their tack and equipment plus any extra passengers and even dogs can all add up, with many people not realising their vehicle is over its weight capacity.
The current recommendations for space allowance are 20cm both sides and 20cm above wither height. Studies have shown that horses are able to balance better and travel more comfortably when they have more space rather than having partitions right up against them. Horses should be able to comfortably move their head and neck up and down, having their head held in a higher position when travelling can increase the risk of respiratory infection.
Commercial transporter
If you intend to hire someone to transport your horse for you, make sure you do your due diligence before entrusting the care and safety of your horse to them. It is important to determine what experience, training, insurance and accreditations the horse transporter you are looking to use has, and there are certain legal requirements they must meet depending on the length of journey, such as certificates of competence.
Journey planning
Before travelling ensure your horsebox or towing vehicle and trailer is appropriately taxed and insured before they are used for transporting your horse. It is also worthwhile investing in appropriate breakdown and recovery cover, to include having a plan to have horses picked up in a suitable vehicle should your horsebox or car with trailer break down.
On the day you should also consider:
The weather:

If it's hot, do you need to take additional water?
Will that effect the payload of your vehicle?
Is it too hot to travel? Remember the temperature in the horse box is likely to be higher than the external temperature, especially when more than one horse is being transported. Consider travelling at the coolest time of day and monitoring the temperature in the horse compartment with a temperature and humidity sensor.

Your route:

Do any roads have weight restrictions or low bridges?
Have you got a back-up route in case of traffic on a motorway or main road?
Do you know where to safely stop if needed?

The distance being travelled and whether breaks are necessary
Monitoring your horse's behaviour:

Can you set up a camera so you can monitor your horse for signs of stress or injury?

Is your mobile phone charged and are there any spots on the journey where you may lose signal?
Good planning is key, and it is important to have appropriate contingency plans in place should something unexpected happen. If travelling on your own with no passengers it is advisable to tell someone at your yard where you are going, your intended route and when you expect to be back. Make sure you have shared your mobile phone number with your yard manager/another livery and that you have theirs.
Dr Barbara Padallino (University of Bologna) and World Horse Welfare's Alana Chapman discuss further information on travelling horses safely and minimising the risks in our Welfare Wednesday Webinar.
For more information on travelling safely, you can check out the EU codes of practice for travelling animals here.