Considering the end of a horse's life can be extremely distressing for owners. A greater suffering of grief occurs when such decisions are rushed and unplanned. Unfortunately, accidents and illness can occur at any time in a horse's life. Research from Advancing Equine Scientific Excellence (AESE) showed that a similar number of horses died aged 7-10 years as aged 26-30 years. It also found that only 1 in 8 horses die of natural causes, which means in the other 7 cases the decision to euthanise will have been planned by the owner or in an emergency.
In the case of any death, regardless of whether it is due to euthanasia or natural causes, there are matters that need to be considered and this is far easier to do in advance of any problem. Therefore, whether you own, loan or are looking towards your future horse, it is important to make an end of life plan.
Responsible horse ownership often focuses on the aspects of care in giving your horse a good life but equally important is the responsibility to make sure they have a good death when the time comes. Considering your horse's quality of life is imperative, and whilst it is not an easy decision to make, the implications in delaying euthanasia can have a much greater impact on their well-being and on your peace of mind.
To help you think through this decision carefully World Horse Welfare, the British Horse Society and the Blue Cross have a range of information and advice to support and guide you through every step of the way. You might also find it helpful to visit The Equine End of Life Service site.
Just in Case is the name of our suite of materials designed to help guide owners through equine end of life matters, providing a valuable resource and helping hand for anyone, whether you are making the difficult decision now or simply preparing for all eventualities in the distant future.
Two leaflets are available, one to give you the facts, and the other to help you make a plan long before you will need it.
You can download these leaflets below, or if you would like to talk to one of our compassionate, knowledgeable team about end of life planning call +44 (0)1953 497 238 during office hours.
Just in Case: The Facts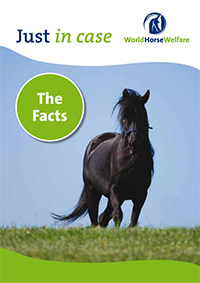 The leaflet:
Clearly and sensitively explains all aspects of the situation

 

The options available and what to expect

 

How to assess quality of life

Insurance and legislation issues

Whether you should be there.

 
Just in Case: Owner's Plan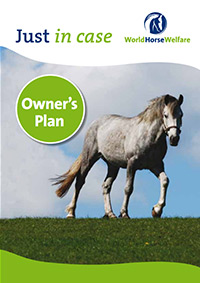 The leaflet provides a clear form which can be completed in advance.
You can also use this to be certain everyone knows what choices you would make even if you can't be contacted in an emergency.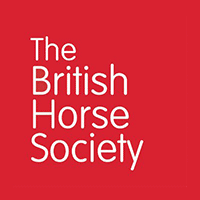 'Friends at the End' is a BHS initiative designed to make sure that no horse owner has to face the loss of their equine companion alone. Friends at the End was launched in response to pleas from owners who felt isolated and unsupported during the time every horse lover dreads. Through this initiative, BHS 'Friends at the End' has helped many owners either before, during or after the loss of their beloved horse.
All of the Friends at the End team have lost horses themselves and received training from bereavement counsellors, so they have a genuine understanding of the loss and grief that come when a horse dies. They aren't there to take the place of a counsellor or vet, but they can offer an extra source of support. At the hardest time in a horse owner's journey, Friends are available to make it as smooth and straightforward as possible.
If you feel that you might benefit from talking to someone through the Friends at the End scheme, contact BHS Welfare on 02476 840517 or welfare@bhs.org.uk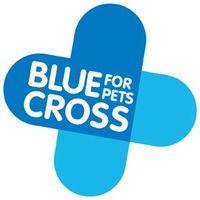 Losing a horse or pony can often be equated to losing a member of the family. It is therefore very important not to underestimate the grieving process, and the strength of feelings that any owner or carer may feel once their horse has been put to sleep. It may be useful to talk to family members, or in some cases a trained counsellor who deals specifically with people suffering from grief.
The Blue Cross Pet Bereavement Support Service is a telephone helpline and email service that offers free and confidential support to bereaved pet owners, through a national network of trained volunteer befrienders.
The Bereavement Support Service is available 365 days of the year to those who need help by phone on 0800 096 6606 (8.30am-8.30pm) or email pbssmail@bluecross.org.uk.