Why we need your help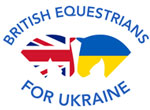 We are raising funds on behalf of British Equestrian and the UK's equine sector to provide emergency support for the equines, and their owners and carers, affected by the devastation of the conflict in Ukraine. We will be working initially with local partners, including the Ukraine and Polish Equestrian Federations, and with other partners as the situation progresses. Any unused funds will be donated to the Foundation of the Ukraine Equestrian Federation.
Your gift will help buy desperately-needed feed, bedding and veterinary supplies. Any donation, no matter how small, will make a real difference to Ukrainian horses, right across the country's equestrian sector, from sport and leisure horses and all other horses who need our help.